Fido (pronounced
Feh-Do
) is
HkH
's many pet wolves' name in Minecraft.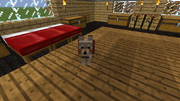 History
Fido the First
In one of HkH's first random adventures in Minecraft, he tamed a wolf and called him Fido. The Wolf remained for quite sometime until HkH went into a cave and it Fido tried to swim to lava, HkH tried to save his Companion by trying to make Fido teleport into a nearby water, but he was too late.
Other Fido(s)
Until today, HkH still calls his pet wolves as Fido. since He can't think of anything cool yet.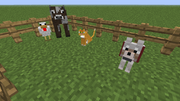 Trivia
All versions of Fido wolves end up dying in anyway.
Fido was so great at dying, He actually won the Surviving Award of 2013!